The following is a guest post from Advantage Realty Services:

A clean carpet is the foundation of a cozy, comfortable and stylish home.

But despite your best efforts at cleaning your carpet, it'll eventually become a victim of accidents, spills, drops, and whatever is on your shoe bottom.

Also, your carpet collects pollens, soils, insecticides, exhaust, and other stuff that get blown in from the polluted outdoors.

So, how do you ensure your carpet is always clean? According to

Advantage Realty Services

, a local property management company here in Tampa, these are 5 best tips to get you started.

1. Prevent Messes & Stains On Your Carpet

This is the simplest way to ensure your carpet remains clean. You can do this in four simple ways.

​

Contain any messes that occur immediately. Get rid of any staining agents as soon as possible. Left unattended, the mess will only get worse and become more difficult to rid of.

For solids, such as butter or chewing gum, use a blunt knife to scrape it off. For small particulates, vacuum it up just as you would if it were dirt. Lastly, if it's colored liquid, use a clean white cloth to dab it. Avoid scrubbing side-to-side. Instead, use up and down pressing motions.

Give your pets some training. The idea here is to minimize "accidents" on your carpet as much as possible. If your dog, cat or other small animals for that matter use a litter box, make sure you place it on a floor that is easier to clean. Laminate or tile are good examples.

However, if you don't have other option other than to place it on a carpeted room, then use a rubber litter mat. Using rubber litter mats will help you prevent spills and will help prevent litter from tracking onto the carpet.

Remove footwear before walking on your carpet. Make it customary to remove your shoes prior to entering your home. In fact, this is often the case in countries like Japan and Canada.

This will prevent your carpets from soiling.

​

Relegate as much eating and drinking to non-carpeted areas as much as possible. Because carpets are textiles, cleaning them is often difficult compared to, say, tile. This is partly the reason why many people forgo wall carpets in rooms like the kitchen.

2. Vacuum Your Carpet

Generally speaking, the number of times you vacuum your carpet is directly proportional to its cleanliness. Once a week is recommended.

Here's a step-by-step guide on how to do it.

Step #1:

Make sure the passage of the vacuum cleaner is unobstructed. As such, pick up items like papers, coins, and toys.

Step #2:

Vacuum both vertically and horizontally. This is especially important as carpet fibers are often twisted.

Step #3:

Use the nozzle attachment to clean hard-to-reach areas.

3. Shampoo Your Carpet

Unlike vacuuming, shampooing your carpet is a great way to get a much thorough clean. Plus, it extends your carpet's life.

Here is a step-by-step guide on how to best do it.

Step #1:

Move all the furniture aside. If they are too bulky, place them aside. However, if you can remove them out of the room, the better.

Step #2:

Thoroughly vacuum the carpet. Begin forward and back, then left to right. Don't forget to clean the crannies and corners as well. Most people do.

Step #3:

Start the shampooing. Make sure you understand how the machine works. If you are renting it or the shampooer is new, read the instructions for use first. Alternatively, look for online tutorials.

Also, don't forget to add the right amount of carpet soap. Using more may leave soap scam on your carpet or may clog the machine.

Step #4:

Pull the shampooer slowly. Shampooers and vacuums don't work at the same pace. If you do it fast, your carpets will be left wet and still dirty. Essentially, the slower your pace, the cleaner your carpet will be.

Step #5:

Ventilate the area to allow the carpet to dry fully. Poor air circulation may lead to mold problems.

4. Spot Clean Your Carpet

This is recommended for recent spills on a small area of your carpet. To do this, you require a white cloth and the right carpet cleaner. To remove fresh stains, first blot them dry using the cloth.

Next, use the right cleaner. For pet urine, use an enzyme-based cleaner. For blood stains, use hydrogen peroxide or cold water.

As you dab the affected area, do it gently. Otherwise, it will only drive the stain deeper into the fibers. Finally, rinse the carpet using clean water.

5. Consider Steam Cleaning

If the stain still won't go away after trying the other methods, try DIY steam cleaning or hire a

professional service

. Prepare a solution of water and white vinegar and fill the detergent vessel with it. Next, follow the instructions given to steam-clean your carpet.

Preferably, do this in the evening and leave it to dry overnight. It's recommended you steam-clean your carpet at least twice every year.

If you want to keep your carpet looking fresh and new, cleaning it is essential. With a little bit of luck, these five proven tips should help you do just that.
Powered by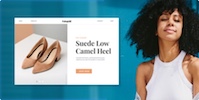 Create your own unique website with customizable templates.