If you have a pet then you know that you cannot merely pick any carpet you feel like. You do not want to keep buying carpet after it is destroyed by a pet or calling a Tampa carpet cleaning service time and time again. That is why you need a carpet that is going to withstand the accidents associated with pets. Here are some of the best carpets to buy if you have pets:

Nylon Fiber Carpet

​Synthetic fiber carpets work well in a home with pets. An excellent example is nylon carpets. Nylon material is exceptionally resistant to stains, and it is also strong. They don't lose their shape easily because the synthetic fibers that hold them together are extremely strong. You might be confused on whether to buy a nylon carpet because it costs more than other fibers. However, it is worth it.

There are longer lasting colors of nylon carpets compared to other carpets. Nylon carpets are also recommended if you have kids or you are looking for a carpet for high traffic areas. Another thing you will love about nylon carpets is the fact that they have advanced stain treatments.

Polyester Carpet

There are several stain-resistant carpets, and the variety can make you confused on which one to pick. If you get polyester carpet, then you shouldn't look any further. Polyester is not only resistant to stains, but it has a softness that the rest of the carpets lack. You will enjoy the feel of carpet and relax at the thought that it will resist most of the pet urine stains it will be exposed to.

PetProof Carpet

Manufacturers are always looking for new carpet inventions, and they came up with

PetProof carpet

. This type of carpet is specifically made for people with pets. A PetProof carpet has a higher ability to resist the toughest animal stains and

pet odors

.

Furthermore, the carpet significantly reduces the odors that come with animal urine. It can do this because it has a 0% moisture absorption rate. Moisture enables the production of ammonia gas which causes a stronger urine smell.

The fact that PetProof carpets do not absorb moisture means that pet urine stains will give off a less concentrated smell. The carpets also have a spill and soil shield, and therefore, they are easy to clean up when the pet accidentally mess on them. Research shows that PetProof carpets are about three times easier to clean if they have pet hair, dander and dirt compared to the other types of carpets.

This type of carpet is available in a variety of styles and colors. You can have plain or patterned styles. If you have never liked dark colored carpets but have been forced to them in the past because of the need to hide animal pet stains then your prayers have been answered in the form of PetProof carpets.

The fact these carpets are easy to clean means that you can get lighter colors and not worry about seeing stains. Our service is perfect for this type of carpet. You don't have restrictions on the style and color even if you have pets and this means that you can choose a PetProof carpet that complements your home décor.

Medium Shade Carpets

Sometimes you need a carpet that will hide animal urine stains until the carpet cleaners arrive. Medium shade carpets are best suited for this purpose. Most people tend to think that dark colored carpets do a fantastic job of hiding stains which is not true. If you spill a glass of juice on a dark colored carpet, you will see it immediately compared to if you spill it on a medium shade.

The same applies to when you spill crumbs or dog hair on the carpet. Dark colors and light colors are not ideal. Grey, blue and light brown colors are the best. Besides that, they give your home more warmth.

Carpet Tiles

You can consider carpet tiles too if you have pets. The best thing about carpet tiles is that if they are damaged, you do not need to replace all of it. If pet urine ruins a section of the carpet tiles, you take it out and replace that section. You may have a puppy that enjoys chewing on everything including fabric.

Therefore, such a pet might even chew on the carpet. One trick you can use is to buy some extra carpet piles so you can keep tracing.
Powered by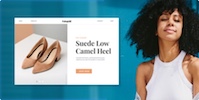 Create your own unique website with customizable templates.